Rothen very annoyed by Varane's decision
In his program "Rothen ignites", Jérôme Rothen said he was very annoyed by the decision of Raphaël Varane to retire from international football at only 29 years old.
"I think that at that age and when you play in a club that allows you to stay at a very high level, you have a duty. It's to bring your talent to your country. He did it very well In fact, he has a long list of achievements with the France team, congratulations! He won the most beautiful of competitions. We saw all his contribution to the last World Cup. But I say to myself: what a decision! It's a disaster to hear that, to no longer wear the national jersey at 29. It's a duty to represent your country when you're 29 and your club allows you to stay at the top level. don't do that! I don't understand the players who say they're quitting, when the France team allowed them to have great club contracts. Raphaël, don't forget that you brought a lot but here you do a bullshit! The competition? He put the players in his pocket. He has a crazy importance in this group. I just put one caveat: if he stops at 29, it's because the atmosphere should not s to be so good as that in the France team. Which player in the France team stopped at 29?
Mbappé's message to Varane
Despite his injury which, barring a miracle, will deprive him of the knockout round of the Champions League against Bayern, Kylian Mbappé posted a message to his now ex-teammate with the Blues, Raphaël Varane after the defender announced his retirement international: "Thank you Raph, the best for the future", wrote the PSG star on Instagram.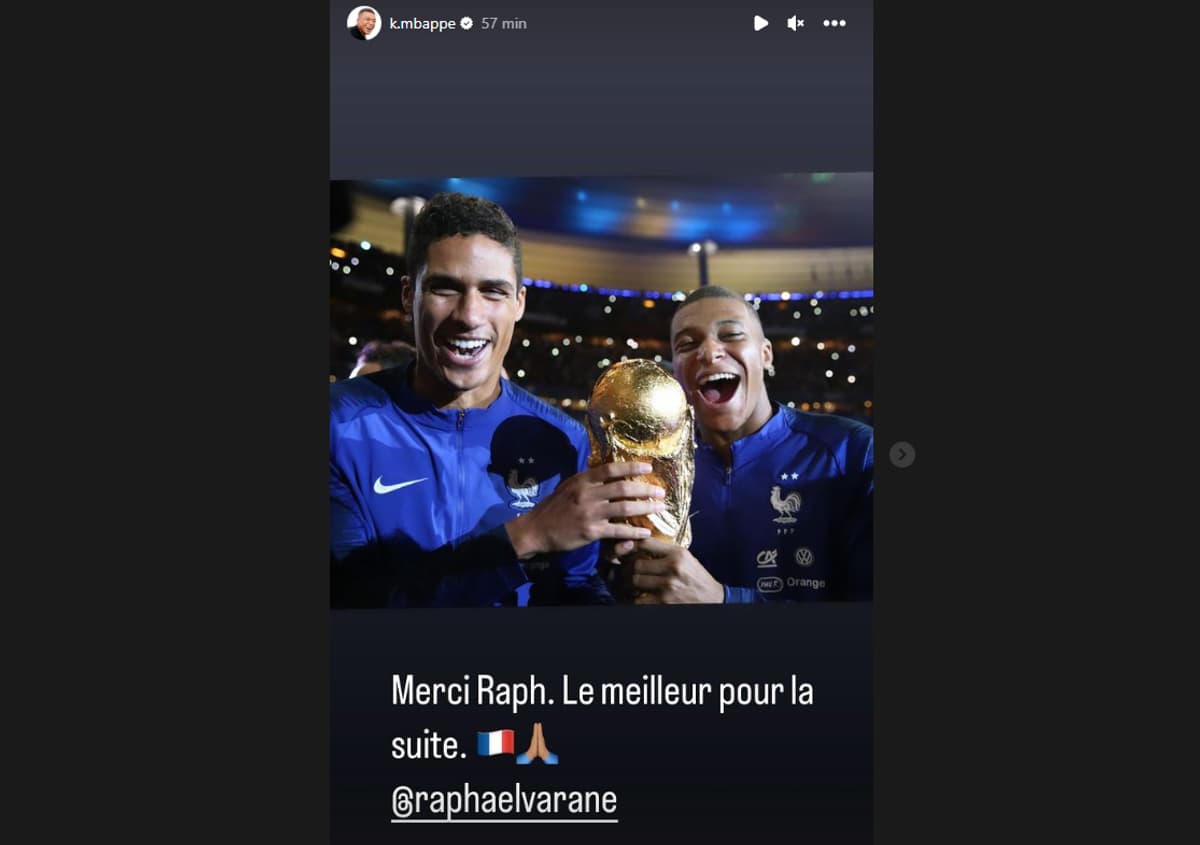 Mbappe or Griezmann? Who will be the next captain?
At 29, world champion Raphael Varane has therefore retired internationally. He could logically claim to take over the captain's armband after Hugo LLoris stopped. The question of succession now arises.
Kylian Mbappé is the big favourite. The Paris Saint Germain striker has taken on a new dimension in Blue since the last World Cup. His legitimacy on and off the pitch is undisputed. Besides, Hugo LLoris naturally quoted him when he was asked about his successor.
Among the other applicants there is Antoine Griezmann, the best decisive passer in the history of the France team. His experience with the Blues speaks for him. Finalist at Euro 2016 and also world champion in 2018. The Atletico striker was also one of the great architects of the beautiful course of Blues in Qatar. Repositioned in a midfield role, "Grizi" has also gained weight in the locker room. During the World Cup, he did not hesitate to speak up to encourage or re-mobilize his partners. He has good relations with the rest of the group, in particular Kylian Mbappé and the relationship of trust that has linked him to the coach for many years is no secret.
There also remains the hypothesis Paul Pogba, who has good relations with Didier Deschamps: if he had been able to hold his place in the group during the World Cup, he would apply as a serious candidate. But the midfielder still has to return to the field, he who has still not played since his return to Juve … in what state will he return? This is undoubtedly the main question, the one that seems to keep him away from the short-term role for the time being.
(Fabrice Hawkins)
>>> all our info in our complete paper
'Good luck', Manchester United react to Varane's announcement
Raphaël Varane's club, with which he is under contract until 2025, posted a message on the networks after the announcement of his international retirement. "Good luck, Rapha", write in French the Red Devils. In a somewhat surprising way (unless there is a small translation problem)…
"Legendary" for Rio Ferdinand
Rio Ferdinand, the former iconic defender of Manchester United and the England team (81 caps), reacted to the message posted by Raphaël Varane on Instagram. "Legendary", wrote the one who is now a consultant for the British media.
The fourth 2018 world champion to leave the Blues
Raphaël Varane is the fourth 2018 world champion to retire internationally since the coronation of the Blues four and a half years ago in Russia. The youngest of them. Hugo Lloris (36), Steve Mandanda (37) and Blaise Matuidi (35) also announced the end of their adventure with the France team.
What assessment for Varane at the Blues?
After 93 caps, five international goals and a world championship title, Raphaël Varane has decided to end his career with the France team. The 29-year-old defender marked the last decade of the Blues.
>> His record in the France team to read here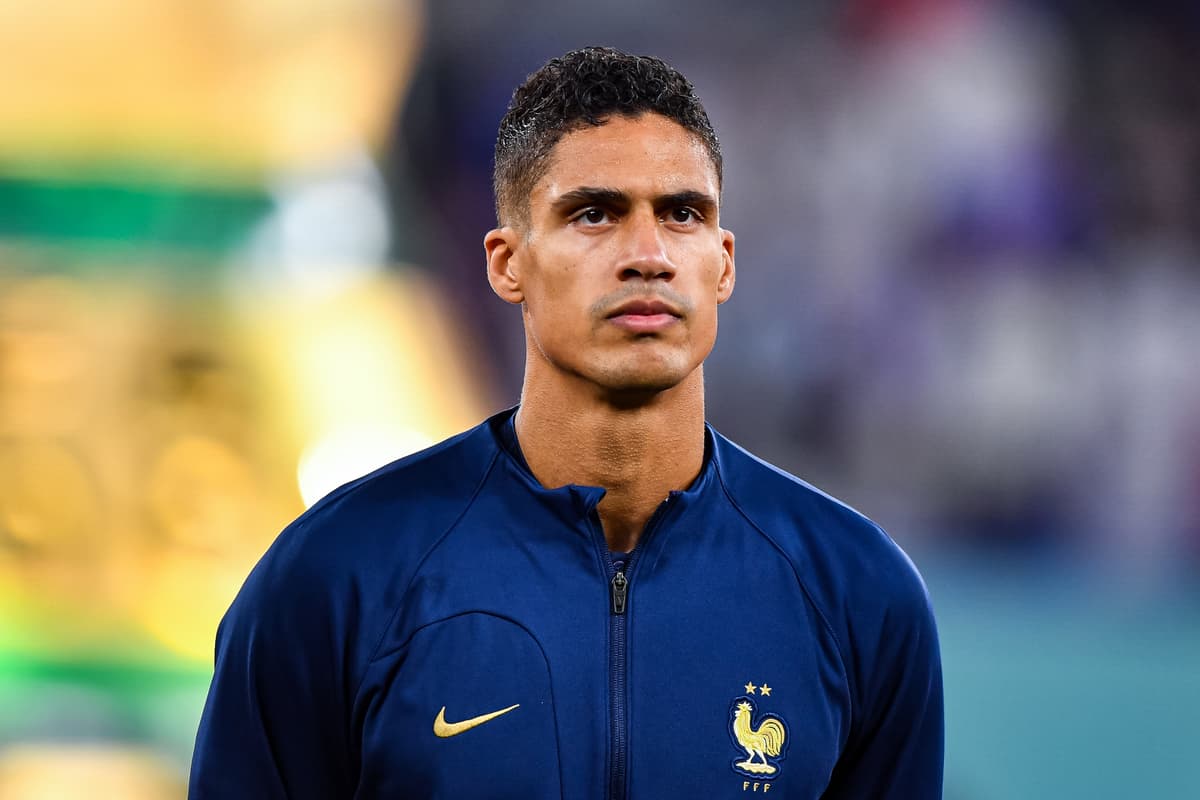 Deschamps' reaction to Varane's announcement
In a press release posted by the French Football Federation, Didier Deschamps reacted to the announcement of Raphaël Varane's international retirement:
"Raphael called me a few days ago to explain to me that he wanted to put an end to his international career. He is an intelligent boy, who knows how to take the time to reflect, weigh the pros and cons before to decide. Without going into the details of our exchange, Raphaël believes that he has reached the end of his adventure with the France team. I experienced a situation somewhat similar to his, I understand his arguments and respect his decision even if it may seem regrettable in view of all that he was able to do with the selection until the World Cup during which he behaved, from start to finish, like the leader that we know.
Of course, I can't turn this page without a certain emotion, given the ties we've forged since August 2012. Like Hugo Lloris, he will have been on all my lists, barring injury. Raphaël, who was then a young talent in the making at Real Madrid, was in my first for the friendly match against Uruguay in Le Havre. He quickly established himself as a starter. I especially remember his authority during the comeback play-off against Ukraine in 2013. A first high-level performance. The first of a long list. If I did not hesitate to entrust him with the armband at 21, it is because he was already showing leadership in the group in his own way and with others. 'Rapha' was an effective relay, one of the guarantors of the collective and its values.
After Blaise Matuidi, Steve Mandanda and Hugo Lloris, Raphaël is the fourth 2018 world champion to retire internationally. As our paths diverge, I wanted to salute his honesty, his unwavering commitment to the blue jersey. Raphael has played a pivotal role on and off the pitch for the past decade. I took great pleasure in being his coach and I know that this is also the case for all of my staff. I wish him the best development and the best possible happiness."
More information here.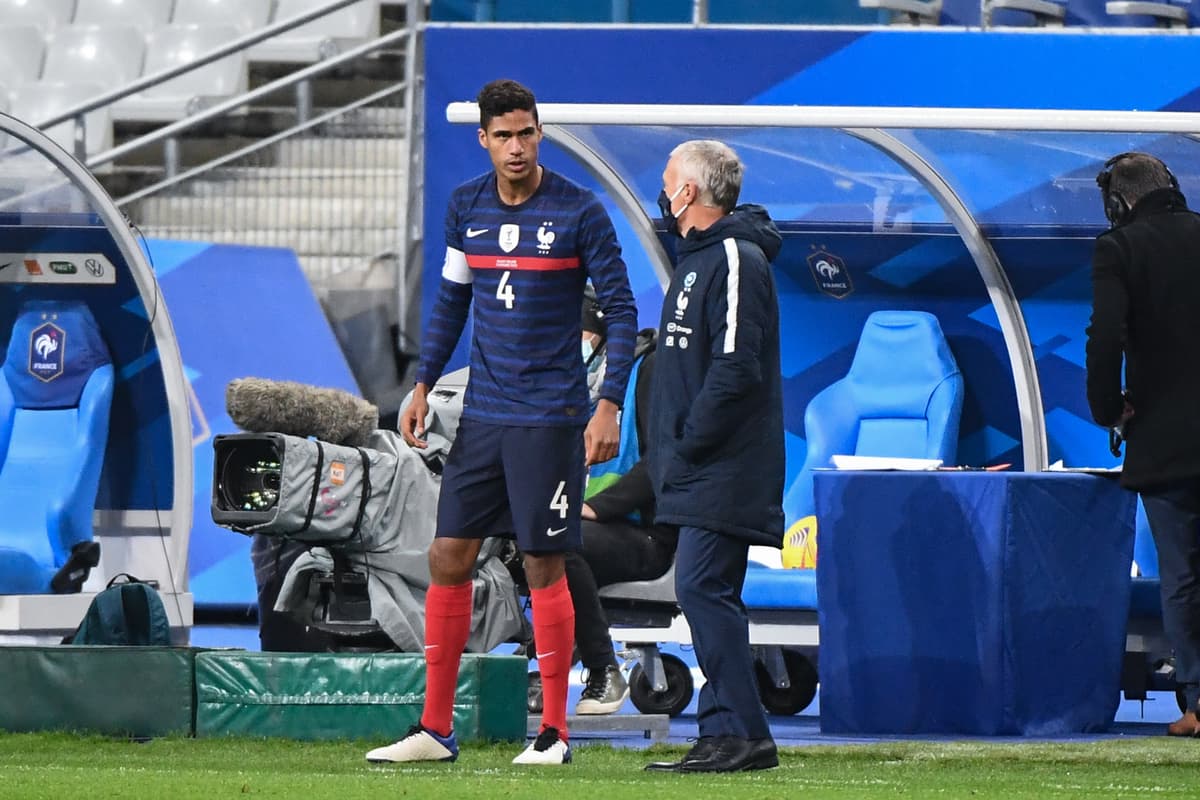 Varane's message to confirm his international retirement
On Instagram, Raphaël Varane posted a long message to confirm his international retirement:
"Representing our magnificent country for a decade has been one of the greatest honors of my life. Each time I have worn this special blue jersey, I have felt immense pride. The duty to give my all, to to play with my heart and to win every time we step on the pitch. I have been thinking about this for several months and have decided that it is the right time for me to retire from international football.
As a child, I remember following France 98, this team, these players who made us experience indescribable emotions. I dreamed of doing like our heroes and, 20 years later, I had one of the best experiences of my life, one that made me really proud. We brought the Cup home!! I will never forget him. I still feel every single emotion I felt that day, July 15, 2018. It was one of the greatest and most memorable moments of my life.
This victory that we won together would never have been possible without the support of Didier Deschamps, of each of the members of the management and our staff during these years, of my teammates who defended our shirt at each of our matches. .
But more importantly, this victory would not have been possible without the support of each of you along this path.
Your enthusiasm, the celebrations and the memories of our return to France will remain etched in my mind forever.
Even after the defeat in the final last year, with certainly a great run, you welcomed us as heroes when we returned. To each and every one of you, a thousand times THANK YOU!
I will miss these moments with you for sure, but the time has come for the new generation to take over. We have a group of talented young players who are ready to take over, who deserve a chance and who need you.
From the bottom of my heart, thank you. Raph."
More information here.
Raphaël Varane stops the Blues
Raphaël Varane will indeed retire from international football, as revealed by the Parisian and confirmed by RMC Sport.
Fabrice Hawkins
An end of adventure in selection on a final?
Raphaël Varane, who has not yet made an announcement himself, could therefore have ended his career with the Blues in a 2022 World Cup final lost to Argentina. He was released in the 113th minute of play – therefore in overtime – replaced by Ibrahima Konaté.
Varane will retire from international football according to Le Parisien
At 29, Raphaël Varane has decided to end his international career, reports Le Parisien on Thursday. The central defender invokes a certain physical and psychological wear and tear.
>> More info here
Hello everyone
Welcome to our live to follow all the news of the France team.
#LIVE #French #team #Rothen #annoyed #Varanes #international #retirement